Community News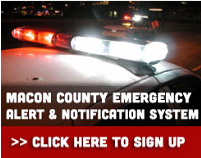 The City of Maroa has a new way for the Community to receive information from the City regarding Public Works, City Events, Safety/Crime Prevention Tips, Community Events and City Emergencies along with Weather Alerts. You may sign up for these messages by clicking on the link. The messages will come email, text, or phone call, you set your preferences. You do not have to live in Maroa to receive these alerts, you may register to keep up with what is happening in town. There is a link on our Facebook page as well, Maroa, Illinois City Hall. If you need assistance or do not have internet access please call 217-794-2206 and we will be happy to help you enroll.
When you receive an alert it will ask you to confirm, if you confirm, the message is not sent to your alternate contact. If you do not confirm, the message is sent to your alternate contact. YOU DO NOT HAVE TO CONFIRM. When you sign up for the service and would like each alert to go to everyone in your family, please be sure to sign each contact up separately. This will insure that each family member will get the alert.
Proposed Wood Street and Bike lane - click link click link
https://www.surveymonkey.com/r/BLDQGHZ This is the link to take the survey that you received in the mail. Please respond and let us know what you think.
Maroa-Forsyth School District Foundation - Turn Amazon purchases into donations for the Maroa Forsyth School District Foundation. For more information click link
Maroa Police Department Vacancy notice - click link for information You may submit your resume, application and ask any questions at This email address is being protected from spambots. You need JavaScript enabled to view it. - click for application
If you are going out of town and would like the police department to do a security check while you are gone, please fill this form out and return to City Hall. click link
Recycling information - Please read this information to know what is acceptable to put in the recycle bin. Please do not put anything else in the recycle bin. Thank you. click link
Macon County Environmental Management click for link
Supportive Living at Hawthorne Inn of Liberty Village of Clinton is now taking reservations. There are one and two bedroom units available. Stop by and check them out. - For more information click link
New Water service application click link For your convenience, you may download this form and complete it along with $50 deposit then bring to the office or drop in the night drop for new water service. NO CASH in the drop box.
If you would like to receive your water bill by email each month, please let us know. You may call the office, 217-794-2206 or email This email address is being protected from spambots. You need JavaScript enabled to view it.

We are NOT stopping the Newsletter, it will continue to be published. Starting January, 2018 the Newsletter will no longer be sent to each person. We are encouraging people to view it online but a paper copy will still be available. The Newsletter is available here on the website. If you would like to receive the Newsletter, you may receive it by email, or pick one up at the office, or through the mail. Please let the office know which way you would like to receive it. We are trying to go green and reduce costs, saving taxpayer dollars. You may call the office at 217-794-2206, drop your request in the night drop, or email it to This email address is being protected from spambots. You need JavaScript enabled to view it. or This email address is being protected from spambots. You need JavaScript enabled to view it. . Thank you for your help.
REMINDER - THE WATER BILLS ARE MAILED OR EMAILED MONTHLY. THE CITY IS NOT RESPONSIBLE FOR LOST OR NON RECEIPT OF WATER BILLS. YOU MAY REQUEST A NEW BILL BE SENT, YOU MAY CALL FOR YOUR BALANCE DUE OR YOU MAY CHECK ONLINE. ALL WATER BILLS ARE DUE BY THE 17TH OF EACH MONTH. PENALTY OF 15% IS ADDED ON THE 18TH OF EACH MONTH. THE FOURTH TUESDAY OF ODD MONTHS ARE SHUT OFF DAYS.
The Calendar for the Gym and Spencer Park Pavillion are available under the Events tab. You may check to see if the facility is available for the date you would like to have it.
The City Hall Gym is available to rent. The cost is $50.00 and there is a $120.00 deposit that is returned when you clean up and key is returned. If you have any questions about renting, call 217-794-2206, to get your reservation on the books. Here are the forms to complete for your convience Gym Reservation form Gym liability
The Park Pavilion is available to be reserved. There is no cost to reserve, just call 217-794-2206, to get your reservation on the books. Here is the form to complete for your convenience Park Pavilion Reservation form
******PLEASE NO BURNING OF LEAVES, GRASS AND LIMBS ON WEST MAIN FROM WOOD STREET TO CEDAR STREET. THE DEBRIS IS CLOGGING UP THE DRAINS WHEN IT RAINS AND WASHES IT DOWN. THANK YOU FOR YOUR HELP WITH THIS MATTER.*****
CHRISTMAS BASKET COMMITTEE, BARB AT 217.620.5527 OR BARB AT 217.454.3639. MONETARY DONATIONS ARE ACCEPTED AT SCOTT STATE BANK. KEEP IN MIND THOSE IN NEED.
2017 Annual Treasurer's Report click link
Ordinance pertaining to Prevailing Wages click link
United Waste Contract click for link
ORDINANCE PERTAINING TO UTILITY TAX INCREASE CLICK FOR LINK Revised ordinance click
City of Maroa Budget 2017/18 click link
City of Maroa Budget 2016/17 click link
Ordinance Pertaining to Maroa Business District click link
Amended Ordinance Pertaining to the Maroa Business District click link
Ordinance Pertaining to Solicitors in Maroa click link
Ordinance pertaining to Hamilton rezoning click link

Ordinance pertaining to Marsh annexation click link
Ordinance pertaining to Marsh rezoning click link
Ordinance pertaining to possession of cannabis click link
Ordinance pertaining to the Tax Levy click link
Ordinance pertaining to the Annual Abatement click link
City of Maroa Zoning Ordinance Book ZONING ORDINANCE BOOK PG 1 - 78 ZONING ORDINANCE BOOK PG 78A - 182
The Maroa Fire Department is a great way to give back to your community. If you are interested in joining the Fire Department, please see any volunteer for more information or contact the Firehouse at 217.794.3375.
The Maroa Fire Department is NOT manned 24/7. If you have a fire emergency, please call 9-1-1.
2018 COUNCIL MEETING DATES CLICK LINK
2017 COUNCIL MEETING DATES CLICK LINK
About the FFA
The Illinois Association FFA is dedicated to making a positive difference in the lives of students by developing their potential for premier leadership, personal growth and career success through agricultural education. To learn more about the FFA visit http://www.illinoisffa.org
"Maximize"
The theme for the 2016-2017 State Officer Team is "Maximize". The State Officer Team consists of the twenty-five Section Presidents and five major State Officers. This year's team selected this theme to encourage individuals, teams, chapters, business and organizations to maximize their potential to support current and future FFA members, their activities and agricultural education.
About the Illinois Foundation FFA
Illinois Foundation FFA engages individuals, industry, education, government, and foundations in securing funds to support quality Agricultural Education/FFA programs in Illinois. To learn how you can become involved link to http://www.illinoisffafoundation.org
Local FFA Chapter Participates in Corn Disease Image Contest with The Climate
Corporation For Hands-On Digital Agriculture Experience
Maroa Forsyth FFA Chapter May 19, 2017 –Macon County, Local FFA Chapter entered contest facilitated by The Climate Corporation, a subsidiary of Monsanto Company, for an educational, in-field experience to help students understand the positive impact of transformative, digital technologies in agriculture.
As part of the contest, students will engage local farmers, agronomists and retailers to scout fields, indicate disease presence and learn about the challenging agronomic impacts of corn diseases. Students will record their findings using The Climate Corporation's industry-leading Climate FieldViewTM digital agriculture platform.
"We are excited for our students to get out in the field, interact with ag technology in a new way and expand their outlook on agriculture. It is invaluable for our students to partner with farmers and ag leaders in our community and at the same time, learn more about ag software tools like Climate FieldView. This contest has not only excited our students about modern agriculture, but also has given them greater appreciation for digital tools that can help farmers save time and protect yield," said Cassie Crouch, Ag Teacher at Maroa Forsyth High School
FFA students and chapters formally enrolled in Climate's Corn Disease Image Contest will use the Climate FieldViewTM app to capture and submit photos of corn diseases from fields in their geography. The contest will begin on May 10, 2017 and photos can be submitted throughout the summer until the program concludes Sept. 1, 2017 at 11:59 p.m. CT. The FFA chapter with the highest number of points according the contest guidelines will be determined in September. The three FFA chapters with the highest number of points in each state will be awarded a monetary prize ranging from $150-500.
For more information on The Climate Corporation's disease image contest, please visit: climateinsights.com/diseaseproject2017. If you are a farmer, retailer or agronomist and interested in supporting your local FFA chapter, please contact Cassie Crouch at This email address is being protected from spambots. You need JavaScript enabled to view it. .
To learn more about the Climate FieldView™ platform, contact your local Climate dealer or visit climate.com.
The community Business Directory is on our site. If you would like your business or service added to the directory please contact City Clerk, Diane Edwards This email address is being protected from spambots. You need JavaScript enabled to view it.